Highly convenient spaces for both organizers and visitor
TRC operates six event halls located just in front of Ryutsu Center Station on the Tokyo Monorail. The largest has floor space of approximately 8,500 ㎡, making it one of only a few spaces in the central Tokyo area capable of hosting large-scale events. These facilities are popular for their multiple adjacent conference rooms, high accessibility, and convenient design and cost performance for event organizers.

Features and Advantages
Event floors up to 8,500 ㎡ in size

Can be used flexibly for a diverse range of events.

The First Exhibition Hall contains four halls (A - D) on one floor, and the halls can be combined as needed for flexible sizes from 949 ㎡ to 4,473 ㎡. The Second Exhibition Hall contains two halls (E, F), and with a total floor space of 8,500 ㎡, it is one of the largest facilities in the central Tokyo area. It has been used for a wide range of events including exhibitions, internal (employee and family member) sales events, cultural events such as manga and anime, and various examination sites.

Conference rooms that are also convenient for independent use

The facilities include 10 conference rooms of varying sizes. With a maximum capacity of 180 persons, they can be used in a variety of ways from event waiting rooms to independent seminars or meetings.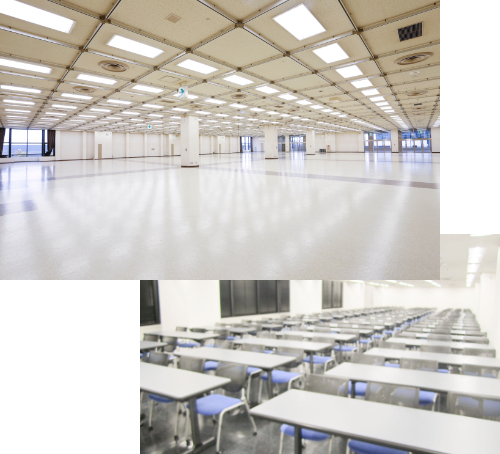 Station-front location
with excellent access

Convenient access from both the city center and other regions

The trip from Hamamatsucho Station or Haneda Airport to Ryutsu Center Station by Tokyo Monorail takes only around 10 minutes, and TRC can be reached from Tokyo Station or Shinagawa Station via Hamamatsucho Station in just over 15 minutes. The location offers convenient access not only from the Tokyo Metropolitan Area, but also to visitors from other regions arriving by bullet train or airplane, improving convenience for all related parties and contributing largely to attracting visitors.

Station-front location that is popular among visitors as well

TRC is located right in front of Ryutsu Center Station. As a result, there is no need to provide shuttle buses or complicated route guidance. Events can be held without putting stress on visitors even on bad weather days.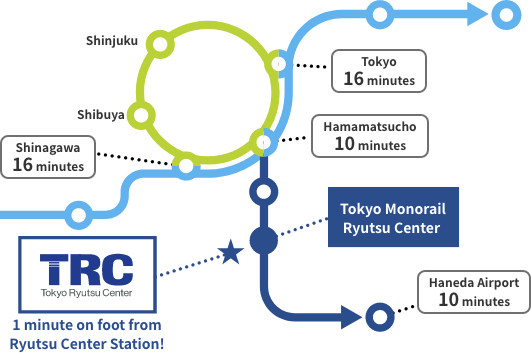 Convenient use and operation

Design that is convenient for organizers and operators

Trucks can be brought directly alongside the loading/unloading docks at each hall, and loading/unloading is permitted 24 hours a day, allowing for convenient setup and takedown.

Reasonable costs and flexible operations

Use of these large-size urban event facilities is supported by the affordable costs. Flexible consultations on a wide range of matters related to facility use are also available. We can provide original measures and proposals for matters such as infection prevention.