Providing flexible and highly convenient office spaces
TRC has two office buildings, Center Bldg and Annex, both located directly in front of Ryutsu Center Station on the Tokyo Monorail. They are large buildings with spaces ranging from a minimum section of approximately 86㎡ to "big plate" offices of up to 3,100 ㎡ on one floor. These spaces have been highly popular for reasons including the high degree of freedom in size selection, good accessibility, and extensive facilities, and they have been supported by the customers for many years.

Features and Advantages
Flexible sizes and a wide range of uses

Flexible sizes from as small as 86 ㎡ to as large as 9,900 ㎡*

Recent years have seen strong interest in the minimum spaces of around 86 ㎡ from startups and venture companies, and they have also received attention for meeting office downsizing needs. Spaces can also be flexibly expanded as a business grows.

* Total when both of the neighboring two office buildings Center Bldg and Annex are used (Available space varies depending on the move-in timing.)

Uses that go beyond simple office spaces

TRC can propose a variety of ways to use these spaces according to customer needs. In addition to use as ordinary offices, because an adjacent cargo storage area can be easily added, these spaces are popular among customers such as manufacturers producing various devices and trading companies that handle large volumes of samples. There is also demand for use as satellite offices.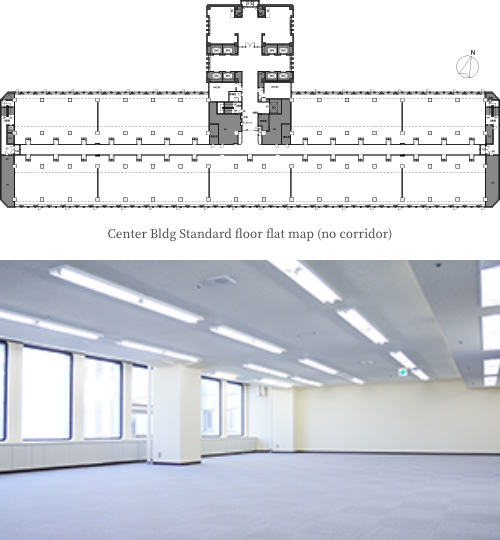 Excellent accessibility and cost performance

Close to the city center and airports,
and surprising rent levels

The trip from Hamamatsucho Station or Haneda Airport to Ryutsu Center Station by Tokyo Monorail takes only around 10 minutes, and TRC can be reached from Tokyo Station or Shinagawa Station via Hamamatsucho Station in just over 15 minutes, providing excellent access to the city center and all parts of Japan. The location is just 1 minute on foot from the Tokyo Monorail Ryutsu Center Station, making it extremely convenient for commuting and visiting. Despite the excellent location, the rent levels are set relatively low, for a real sense of superior cost performance.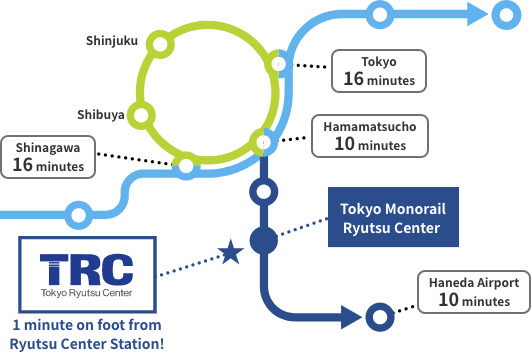 Full facilities and environment

The convenience of an entire city within the grounds

Centered on the office buildings, extensive service facilities are available within the TRC grounds. These include restaurants, cafés, convenience stores, and other everyday shops, as well as services that support living and work such as a post office, bank ATMs, and medical institutions.

Comfortable and safe environmental facilities

Business work is supported by a full range of facilities including the Logit optical fiber network which is connected directly to a data center, and freight elevators that are convenient when transporting cargo and equipment. The large parking area and free bicycle parking are also popular. With an air conditioning system specialized for ventilation and humidification, and programs for BCP (Business Continuity Plans), TRC is also focused on the issues of infection prevention and disaster readiness that have been in the spotlight in recent years.