Contributing to faster and more reliable logistics operations
In an exceptional location close to land, sea, and air logistics points of entry, we operate and manage a total of four (A - D) logistics facilities that help support the logistics functions of the Tokyo Metropolitan Area. We have created an infrastructure that allows us to accommodate increasingly diversified cargo forms and methods of shipment, and to more rapidly perform processes including cargo receiving, sorting, processing, inspection, packaging, shipping, and information processing.
We are now carrying out a project which closed Logistics Building A at the end of May 2021, and will construct a new building by around the summer of 2023.

Features and Advantages
Exceptional location

Connect quickly to destinations across Japan, overseas markets, and consumers.

TRC is located in Heiwajima in Ota City, Tokyo. Because this location is surrounded by expressways and key arterial roads, and is close to Haneda Airport and Ooi Shipping Terminal, the area is perfectly situated for access to and from the Tokyo Metropolitan Area, all parts of Japan, and overseas. With Shinagawa and Kawasaki located within 10 km, Shinjuku, Shibuya and Tokyo Station located within 15 km, and large metropolitan consumer districts also located nearby, the site is attractive as a center for high-frequency, high-activity, small-volume shipping to ordinary consumers.
TRC is also located in front of Ryutsu Center Station on the Tokyo Monorail, and is connected by bus to JR Omori Station and Keikyu Heiwajima Station, for convenient commuting and visits.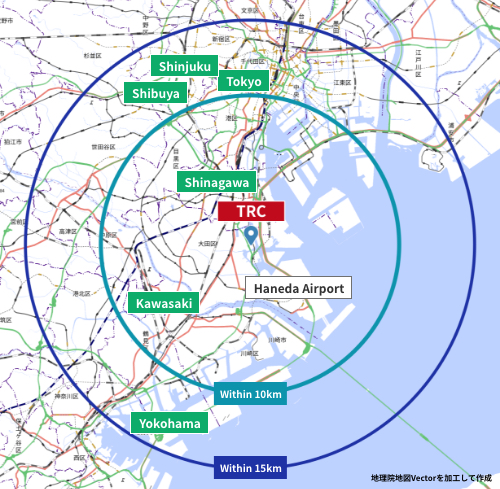 Flexible layouts

Providing a wide range of floor spaces from small to large

Distribution B Building was completed in June 2017, and is capable of flexibly meeting a wide range of operating needs with individual sections starting from 463㎡. The structure has been highly evaluated for its design that is focused on safety and security. It includes features such as separates pedestrian and vehicle passages, and earthquake-resistant construction.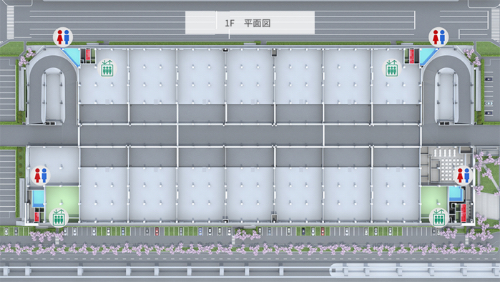 Full facilities and environment

The convenience of an entire city within the grounds

Centered on the office buildings, extensive service facilities are available within the TRC grounds. These include restaurants, cafés, convenience stores, and other everyday shops, as well as services that support living and work such as a post office, bank ATMs, and medical institutions. The large parking area and free bicycle parking are also popular.